Casio Replacement Watch Straps
Casio watchbands category. We have a wide range of original Casio replacement watch straps for you to buy online. Whether you are looking for watch bands for G-Shock, Baby-G, Edifice, Wave Ceptor, Casio Sport, or straps made of plastic (resin), leather or textile, you will find the right replacement bracelet for your watch with us. We also offer instructions on how to find the right replacement watch strap for your Casio watch model.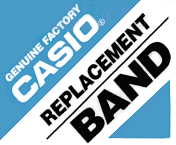 ---
---
---
Casio Resin Watch Straps
Casio is not only known worldwide for its innovative technology, but also for its forward-looking design. This is reflected not least in the selection of materials for the arm band and bezel. The resin, specially developed by Casio for the strap, case and bezel, takes these attributes into account as well as providing a long service life and durability when used correctly.
In fact, the resin watch band is the one most commonly used by Casio. Depending on the model, there are many different variants, colors and designs. If you change your resin wristband, you can always change the style of your watch with a new choice of colors according to your wishes and mood.
In terms of sustainability, Casio is also part of the vanguard of watch manufacturers. For example, watch bands made of bio-based plastics manufactured from renewable, organic materials are also used.
New variants consist of environmentally friendly and carbon fiber-reinforced eco resins to reduce the ecological footprint. Casio-typical high-tech products with an organic watch band as well as a bezel, base and case made of sustainably produced resin are trend-setting for the future of our environment.
Casio Leather and Textile Watch Bands
Especially elegant watches are attractively highlighted by a leather strap. Some Casio watches stand out with leather or textile straps, which are not only durable, but also add a special stylish touch to the watch.
Particularly noteworthy is the high degree of wearability of these textile and leather straps. They fit comfortably on the wrist. These wristbands are easy to replace, as they are usually held by spring bars or quick-release spring bars. This makes it easier to quickly and easily change the watch band if a new one is needed or because you would like to treat yourself to a band in a different color. Depending on your wishes, the color of the strap can be changed quickly and without much effort.
The selection here ranges from straps with or without stitching, with pin buckle or folding clasp to slip-through straps. On some models, it is even possible to convert to a different material. However, model fidelity is important here. If in doubt, please ask us.