Casio Bezel
Genuine Casio bezels. This kind of spare part can be made from one piece or assembled from several case parts. It can be offered as a kit or individually. The shape can be square, round or octagonal. By replacing the bezel, you can greatly enhance your watch and make it look almost new, as the bezel, together with the dial, is the "face" of the watch. You will find the corresponding accessories, such as bezel screws, linked below the articles.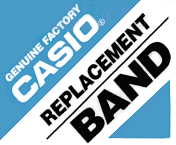 ---
---
---
Original Casio Bezel and Lunettes
In addition to the dial or display and the watch glass, the bezel forms the face of a watch. Casio original bezels almost always carry an inscription or engraving with the brand name. The lettering is coordinated with the functions of the watch. The individual inscriptions indicate the respective function of the buttons. The color, on the other hand, is coordinated with the appearance and the watch band of the timepiece.
Depending on the model, the bezels are made of resin, the typical Casio plastic, stainless steel, titanium or even carbon. In some models, Casio, as a responsible manufacturer, uses bio-based resin to take account of our changing environmental conditions. Here you will find the original replacement bezel made of identical material.
Collectors aren't the only ones who love to install a replacement bezel to eliminate any signs of use that may have previously occurred. In this case, the metal bezel in particular is a popular spare part. Your favorite watch can be given a new lease of life by changing the bezel, or even a completely fresh look by choosing a new color. You can get your bezel replacement here. Simply enter your model number in the product search field.
Below the individual items, you will find the matching watch bands and screws linked in the accessory box.