Casio Replacement Glasses
Upgrade your watch with a new replacement crystal. Please always with seal. For high-priced and waterproof watches, the glass change belongs in experienced hands. If you have never done it yourself, leave it to the watchmaker in case of doubt. It is worth it to be able to read the watch better again without scratches on the glass. Possible glass breakages are a thing of the past with a new glass.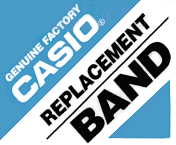 ---
---
---
Casio Watch Glass Replacement
Whether you have a digital or analogue display, scratches on the watch glass will eventually start to get on your nerves. When replacing the watch glass, be sure to replace the glass seal as well. The installation of a replacement glass should be entrusted to experienced hands.
If you have never done it yourself or are feeling unsure, please leave the replacement to a specialist. This is especially advisable for expensive watch models. If you dare to install a replacement glass yourself based on positive experiences or instructions from the web, you should do it very carefully. Some customers are reluctant to hand over their Casio watch and prefer to carry out repairs themselves as much as possible.
The watch must be opened properly, no dirt or dust must enter the movement. During the replacement, the new glass should of course be installed without scratching it. To ensure this, please place the watch on a dust-free but soft surface.