Casio Metal Bracelet Parts
Have you purchased a wonderful Casio watch, but your watch band is too short? This is not a problem for straps made of titanium, stainless steel or composite materials. You can easily extend it by installing individual strap links. Of course, individual strap elements can also be replaced in the event of loss or abrasion. Depending on the wear, the strap can be made to look like new again after installing some replacement links.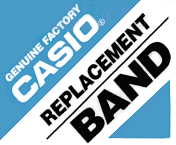 ---
---
---
Casio Replacement Link - Extension Link
You can purchase extension links or new clasps for link wristbands made of precious metals or composite material here. The buckle of a strap in particular can sometimes be exposed to external conditions that cause scratches. As annoying as this is, it's a good thing that Casio offers the option of fitting a corresponding replacement buckle here, especially for more expensive watch models. Depending on the watch, this can be a folding clasp with side pushers, with a clip closure or additional safety clasp.
Please pay as much attention as possible to the model number when selecting. This is important to ensure that the selected replacement part will later fit your wristband. Look at the back of your watch. The number specified there must match the number specified in the article text or the heading. If you are unsure, please feel free to ask us.